Description
JumanjiSchool.com is a private educational institution originated from Brunei Darussalam accredited by Ministry of Education, Brunei.
  Established in Brunei Darussalam in 2005 with a vision of educating the next generation the "high tech" way by providing a "high touch" friendly service to all. We have launched our eLearning Platform in 2009 and relaunched in 2016 with a vision to provide an online eLearning platform with all tools provided so that everyone can teach and learn anywhere, anytime and at their own pace.
At times when transportation is an issue for parents, students can join our e-Learning sessions so that they could repeatedly learn at home. Just register, pay and attend lessons online, it's so easy!
*Parents and learners please note, there is no replacement lessons from 2021 onwards as students who missed their lessons must find ways to attend eLearning sessions from their classroom tuition teachers. Tutors have the responsibility to put their lessons online in case students missed their classroom lessons.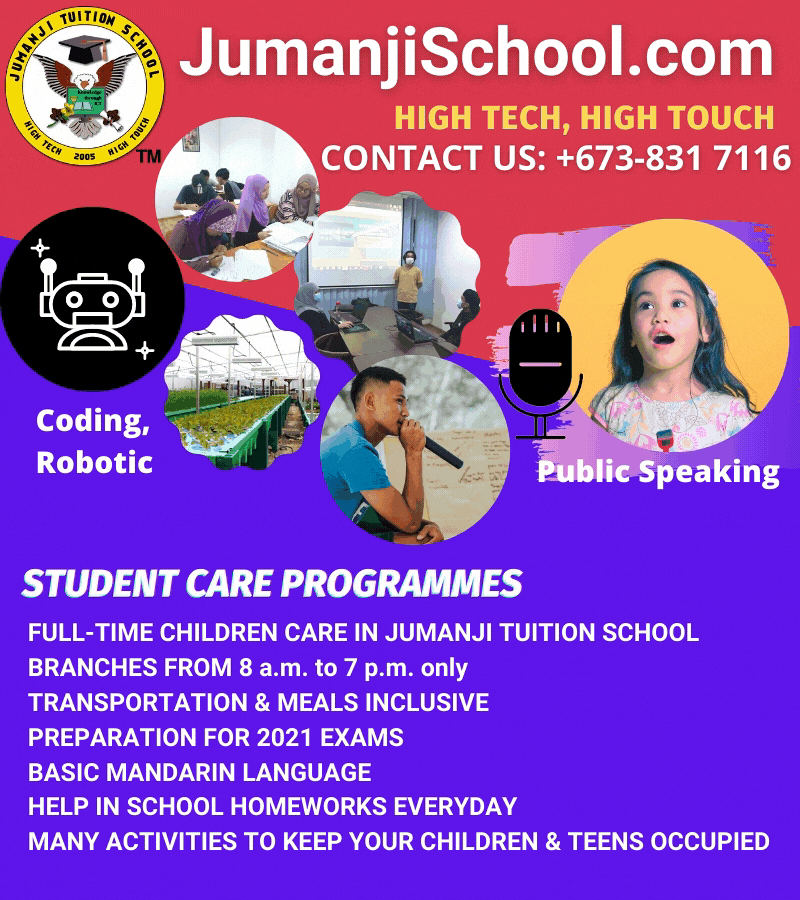 ALL INCLUSIVE PACKAGE TUITION + STUDENTS CARE FROM 8 AM to 7 PM
After 7 PM, we will charge extra fee.
FULL-TIME CHILDREN & TEEN CARE IN JUMANJI TUITION SCHOOL BRANCHES

PREPARATION FOR 2021 EXAMS

BASIC MANDARIN LANGUAGE

MANY ACTIVITIES TO KEEP YOUR CHILDREN & TEENS OCCUPIED

MEALS INCLUSIVE

INCLUDE RESTING OR BREAK-TIME

ACTIVITIES – FUN, CREATIVE, UP TO DATE

SCHOOL HOMEWORK HELP DAILY

ARTS AND CRAFTS 

ICT AND CODING

ROBOTIC, ARTIFICIAL INTELLIGENT  COURSES FOR KIDS/TEENS

FARMING & GARDENING

SCIENCE ACTIVITIES

LANGUAGE CHALLENGES

SHOW AND TELL

PUBLIC SPEAKING – TRAIN KIDS TO SPEAK CONFIDENTLY IN PUBLIC

PLAY FUN GAMES – PUZZLES, EDUCATIONAL GAMES SUITABLE FOR KIDS/TEENS
Please feel free to contact us with any queries or questions you may have.