Description
TATMA is a non-profit association which aims to promote the automobile tyre industry by formulating and implementing policy measures on research and study to improve safety, environmental and economic effectiveness of the tyres for automobile industry in order to contribute to the sound development of Thailand's industry and economy and the improvement of consumer's welfare. TATMA will proceed with the following objectives: 
Promote business operation relating to automobile tyres manufacturing;
Formulate and implement the positive relationship among members;
Formulate and implement policy measures on the safety of automobile tyres;
Formulate and implement policy measures on environmental conservation relating to automobile tyres;
Promote the effectiveness of production and consumption of automobile tyres to help members to compete more effectively both within Thailand and internationally for the utmost benefit of the consumers;
Promote effective communication and cooperation with governments, domestic and overseas organizations and other relevant stakeholders concerning automobile tyres industry;
Conduct seminars or publish articles on the topics related to automobile tyre industry;
 Giving advices or comments concerning the automobile tyres industry to public organizations, members and other organization, but shall not involve in politics.
In TATMA, there are 7 working groups in the following concerned issues,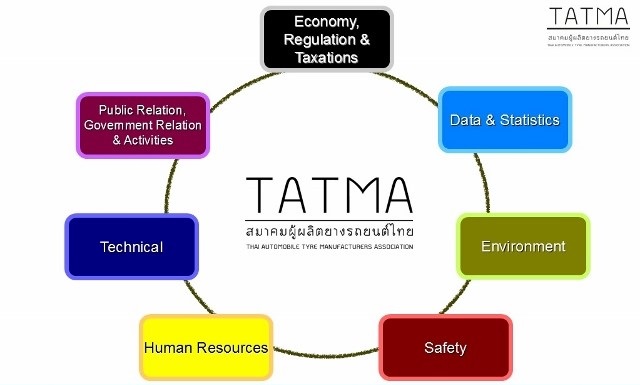 Working Group on Economy, Regulation & Taxations       
Working Group on Data & Statistics
Working Group on Environment                                 
Working Group on Safety
Working Group on Human Resources                                
Working Group on Technical
Working Group on Public relation, Government Relation & Activities 
Please feel free to contact us with any queries or questions you may have.