The online learning market is already saturated with too many resources. That is why e-learning providers must create engaging e-learning content to stand out in the competition.
Kristin Anthony, an instructional designer, and blogger once said:
"Honestly, I think the best way to make e-learning engaging is to create or curate the content that motivated people to get stuff done and remove as many barriers as possible. Trying to motivate people may well be a highly overrated task. Instead, focus on helping people do the things they want to do and getting rid of, or providing efficient pathways through the things that get in their way. Designing for stress cases and moments of need are excellent frameworks."
Nowadays, one can find almost any information about anything online. If you want to acquire a new skill or learn something new, you can find all the information online and free. Then there are paid courses. So, there are two options for the learner. Option one is to pay for the course. And the second option is to collect all the required information from the internet and learn from it.
That raises the question of why one should spend any money and buy the course they want to learn about.?
Let us compare and see if the free or paid option is better and offers more benefits.
Free learning materials: It takes a lot of time and effort to collect authentic materials that would benefit the learning. Those materials are not structured and organized in an orderly manner that could help the learning process. The learner is on his own to self-motivate, learn, test, and examine the progress. Basically, you need an enormous amount of time to collect, categorize and consume the content.
On the other hand, paid online courses benefit that all the course materials and the course are structured in an orderly, progressive, organized manner. It motivates, boosts, and helps the learning process. There is usually a community of learners that can lean on each other for support. Course instructors' presence helps in mentoring and guiding the participant learners throughout the course.
So for the learners, it is evident that paid e-learning courses offer a much better learning experience. However, the free availability of learning materials and a plethora of information present a challenge for the online course creators to create more engaging and effective courses to attract learners.
Since the competitions are higher, the best content always wins. The need for creating engaging e-learning content which equally carries all the essential information is on top of your bucket list. If you are someone looking to monetize your teaching skill just start creating engaging e-learning content for your course curriculum.
Here are few tips for the e-learning course creators to create more effective and engaging e-learning content:
Tip #1: Create a story
Storytelling is probably as old as human history. In ancient times, when there was no internet or even books or writing materials, people used stories to preserve and transfer information, historical facts, and knowledge to the generations to come. Everyone loves a story with drama, crisis, and resolution, such as a happy ending, etc. Children or the elderly, both regardless of age, are attracted to stories. The human mind absorbs and stores information better if it is presented in story form.
You can use Freytag's Pyramid model for creating a compelling story. This model contains at least these five elements:
1) Introduction – exposition and Inciting incident
2) Rising Action
3) Climax
4) Falling Action
5) Denouement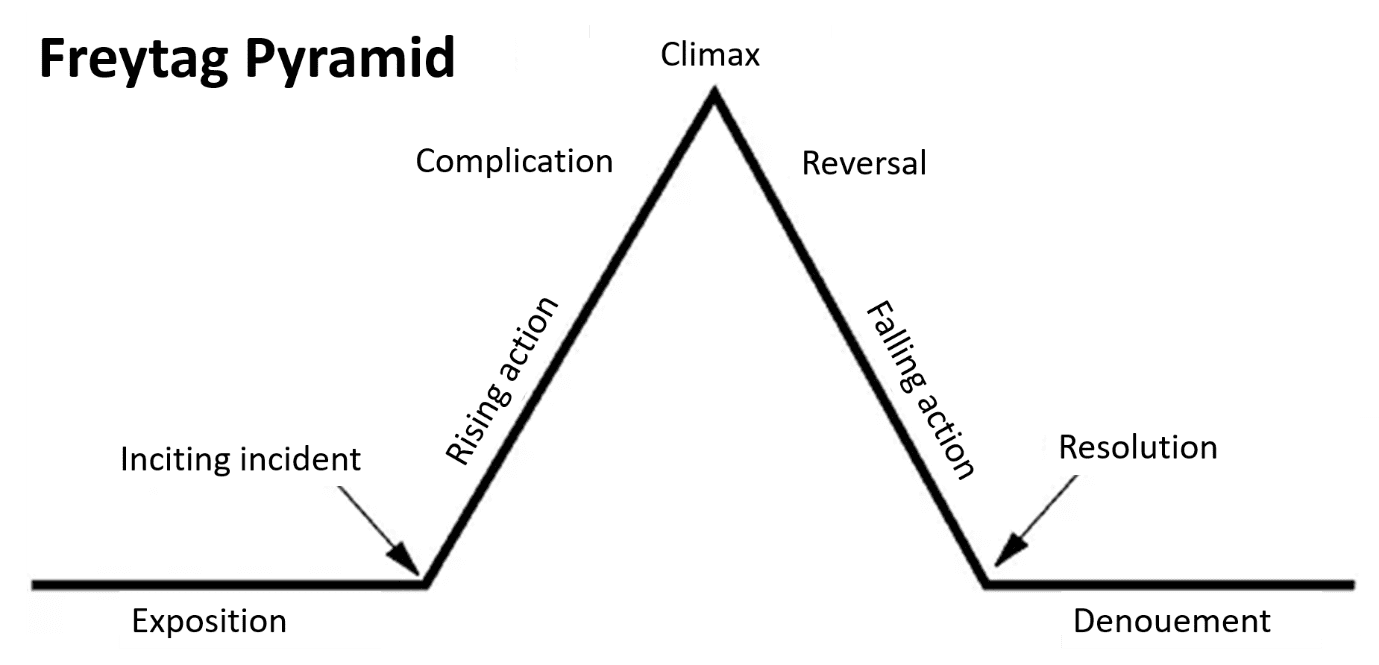 Engaging e-learning content that grabs attention
Make your story character human, natural, believable, and memorable – Use stories that portray real-life scenarios with real-life-like characters that your course participants can relate to.
Use vibrant, enthusiastic narration – do not tell your story in a dull or robotic voice. Be passionate, dynamic, and energetic when narrating your story. Be very clear in your dialogue delivery. If you feel your voice not suitable for narration, get some freelance help. FIVRR is an excellent platform to get narration done at a very reasonable price.
Use active voice – Try not to use passive voice. Use active voice; talk to your students in an informal voice like a friend. That will make the learning experience smooth for the students.
Grab eyeballs with powerful headlines – use attention-grabbing headlines in your content. Design and write your materials for the scanning eyes. Do not use long paragraphs with the plain simple body text. Use short sentences, short paragraphs with good, powerful headlines. Arrange your content so that the reader can have an idea of the content by having a glance at the page or slide.
Harness the power of visuals – a picture speaks a thousand words. This saying is somewhat true. Instead of writing long, boring, plain texts, use the power of visuals to convey your message.
Use images with people. Select such photos that relate to your story—for example, a character with happy, sad, angry, confused face expression, etc.
Use images that your audience can connect with. For example, if you are targeting your course for an audience from North Americas, then use images with people or the image content relative to the location.
Do not just limit images; use illustrations, infographics, charts, and all kinds of visuals to make your story more interesting, engaging, and memorable.
Add text or audio to your images. If you use royalty-free stock images, use programs such as Canva (canve.com) to customize the image and make it more relevant and unique to your brand and course.
Be aware of copyrights and intellectual rights. There is indeed plenty of free resources available on the internet. But read carefully in terms of usage when borrowing visuals from a source.
Add humor – don't be boring or just plain informative. Add fun, humor, and excitement to the course content
Tip #2: Use the power of social media
We, humans, are social beings. We love to engage and collaborate socially. According to a Learning Insight 2017 report, 57% of the participants considered social learning important to their L&D.
You can make your online learning content more engaging by adding features like interactive discussion boards and forums that enable instructors and students to communicate and engage.
Consider the below-listed tips for incorporating social learning into your course:
Start a Facebook Group or a Forum to Your LMS
Allow course participants to Share Progress on Social Networks, for example, Twitter tweets, etc.
Host Live Events such as Facebook Live, YouTube Live, or live webinars to encourage real-time interaction.
Setup Quizzes, Surveys, and Polls
Provide Mentorship to the Students
Above are just a few tips and guidelines. It would be best if you never stopped improving your online e-learning course. Make use of rapidly progressing technology but keep the human element at the core of your online course. We can end this blog with a quote from Jane Bozarth; Jane is the author of many popular e-learning books.
"Don't just start loading content onto slides. Before you begin, step away from the computer and ask, "How can I help people learn this?" Look for an interesting treatment, narrative, theme, or story to help learners get the material while being presented with an interesting setup that supports a sense of accomplishment and forward motion."
Conclusion
On a race of content, always one that influences your users will win the race. An engaging e-learning content needs proper focus, research, and passion to produce it. Understand your audience, their behaviors, pain points and accordingly produce your content.
Try to have an excellent Learning Management System to make the course consumption easy for your users. Also, read our blog on How to get the most out of your teaching courses.